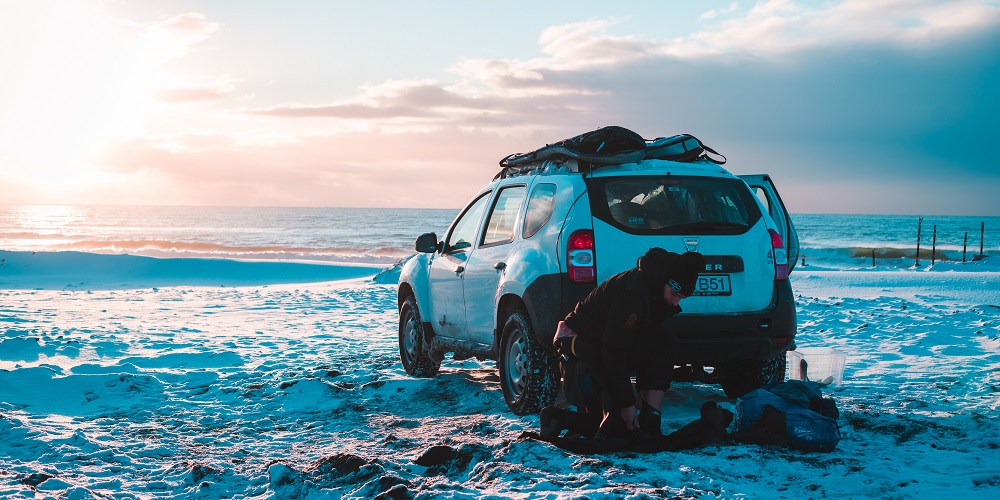 You should, of course, make sure that you pack warm clothes for Iceland in the winter, but it might not be as cold as you think. The south is somewhat warmer than the north though and average temperatures don't usually reach below -5°C. Make sure that you are packing thermals and layers to keep warm.
Other than that you don't really need to go out and buy lots of expensive thermal gear, especially if you are heading to Iceland in one of the milder months. If you plan on doing any specialist activities then you should think about what you might need, such as waterproofs. But it can be difficult to know what you need to pack when it comes to a winter holiday if you haven't been on one before. We have put together a guide to winter packing essentials for Iceland to help you out before the trip.
Windproof Accessories
An essential for visiting Iceland is to make sure that you buy windproof gloves, hats and even jackets where possible. This is because even when the temperature isn't that cold in Iceland, the windchill can cut right through you. Having windproof clothing can make all of the difference and keep you from feeling the cold as much. You should also consider whether you plan on doing any activities as you might then need waterproof accessories too.
Walking or Hiking Boots
It is necessary that you have a good pair of hiking or walking boots when you head to Iceland, even if you don't plan on doing a lot of hiking. It is also important that your boots are waterproof so that you can make sure your feet stay dry. If you are heading to Iceland in the winter then you are more than likely going to encounter some snow and wet conditions. Some of the best sights in Iceland are quite difficult to reach, which parking often a fair walk away from the attraction. If you are planning on making the most of the remote natural landscape then make sure you think about investing in a good pair of hiking boots.
Swimwear
Although it might not seem like the thing you'd usually do in the winter, you should make sure that you pack some swimwear. You've probably heard of the blue lagoon in Iceland, that is naturally heated geothermal spa. Although outdoor geothermal pools and spas would usually be closed in the winter, these pools are naturally heated so they stay warm all year round. This is a massive part of the culture in Iceland and there are a number of other natural geothermal pools in the country. Many of these pools you have to pay for entry but there are also some natural pools that are completely free.
Thermos Flask
A great way to keep warm in the winter is to make sure you bring a thermos flask with you. Fill this up with coffee or a warm drink before heading out for the day and it can keep you warm when you're out exploring. Iceland has a lot of wide open spaces that can be very remote, so you are unlikely to run into many cafes or shops outside of towns and cities. A hot drink can really warm you up from the inside and help you fight the cold winds you can often experience in Iceland. You can also get an energy boost from the caffeine to help you on long walks.
Other Items You Might Need
Along with some of these travel essentials, there are also some other items that are some other items that you should consider packing too. Some of these are items that you might not usually think about taking on holiday with you but can make your trip to Iceland much better. Take a look at our list of top items to pack for Iceland –
Sunglasses; you might not think about this for a winter trip but the sun can be really low in Iceland so it is definitely worth packing a pair.
Moisturiser; cold weather means that your skin can get dry so consider packing some moisturiser and lip balm.
Medication; again it can be hard to find shops when you are out travelling so make sure you pack medication and a first aid kit.
Power Bank; with long trips out on the road, your electronics might run low on battery or you might forget to charge it the night before.