Iceland is a country full of awe-inspiring views, from the snow-capped mountains to the northern lights, there are spectacles for everyone to enjoy. That's why renting a car is the best way to get around Iceland. Public transport can be limited and can make it difficult to reach certain regions, and organised tours can often mean following strict schedules that do not allow you to see everything you would like to.
Luckily, street parking in Reykjavik is always free before 9 am-6 pm, as well as all day on Sundays. Charges do apply on weekdays from 9 am-6 pm, so it is worth doing some research ahead of your journey. Read on to discover everything you need to know about the various parking zones in Reykjavik, as well as how much it will cost.
Reykjavik Parking Zones
There are 4 parking zones in Reykjavik and each has different charges and rates when it comes to parking. Generally, it is only within these zones in downtown Reykjavik that you must pay for parking, most other places should be free. If you don't see a "P" parking sign or information about charges clearly displayed, then you shouldn't have to pay for parking. The different rates for parking in Reykjavik are charged at an hourly rate as follows;
Red & Pink – Area P1; these are the most expensive areas to park, charging 250 ISK (1.8 EUR)
Blue – Area P2; these areas of parking charge 125 ISK (0.9 EUR) 
Green – Area P3; these regions of the capital charge 90 ISK (0.6 EUR) 
Orange – Area P4; only valid during weekdays charging 125 ISK (0.9 EUR)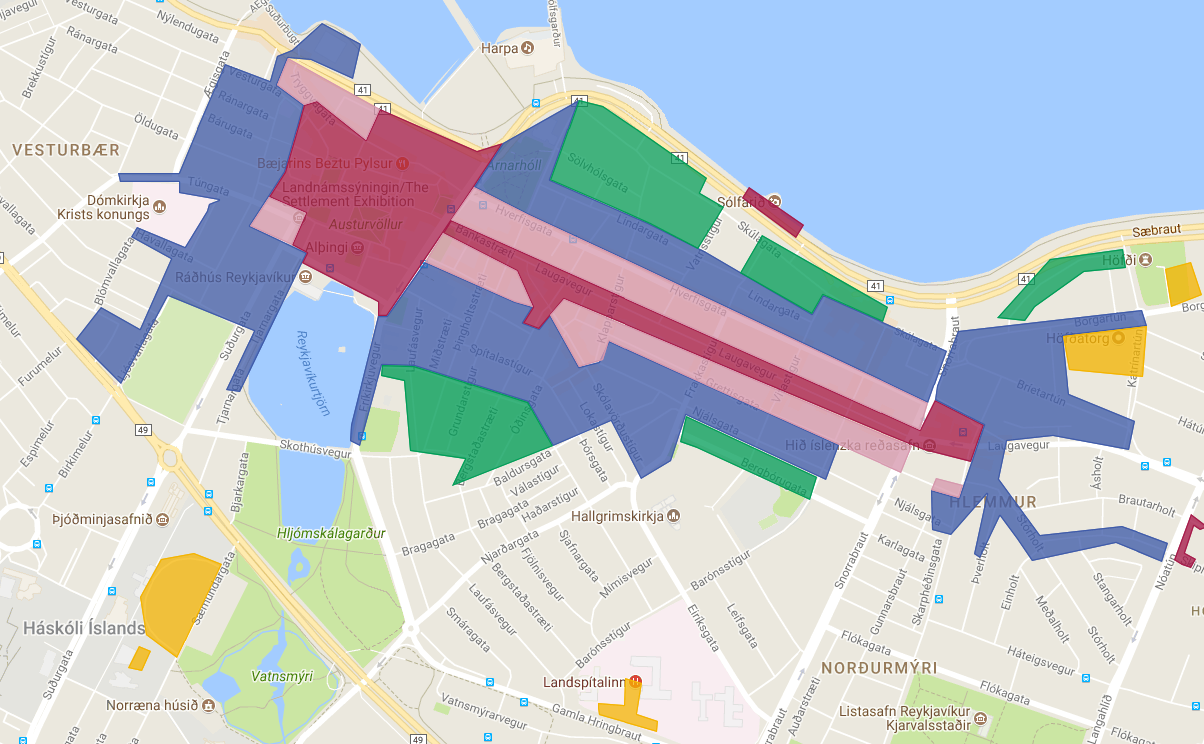 How to Pay For Parking in Iceland
You can generally pay for parking with both cash and credit cards in most places, but there are still some old fashioned machines around. These older parking meters will only accept coins and are generally located down side streets in downtown Reykjavik. You can still use a pay and display machine to get a valid ticket for parking if you only have a credit card, but it could be difficult to find a machine if you don't know where you are. For this reason, it is a good idea to keep some coins with you in case you come across an old parking meter in the city.
Where Else Can I Park?
It's not only just street parking and parking lots that are available in Reykjavik, there are other parking options in the capital. One of the best places to park in Reykjavik is in multi-storey car parks, which are usually much cheaper than the parking zone charges.
If you want to be sure of a parking space, then there is a great website that provides live parking updates - http://www.bilastaedasjodur.is/#bilahusin. The website is currently only available in Icelandic (though the website can be translated) but you can easily navigate by choosing your location and seeing the number of spaces available in green. See an example below: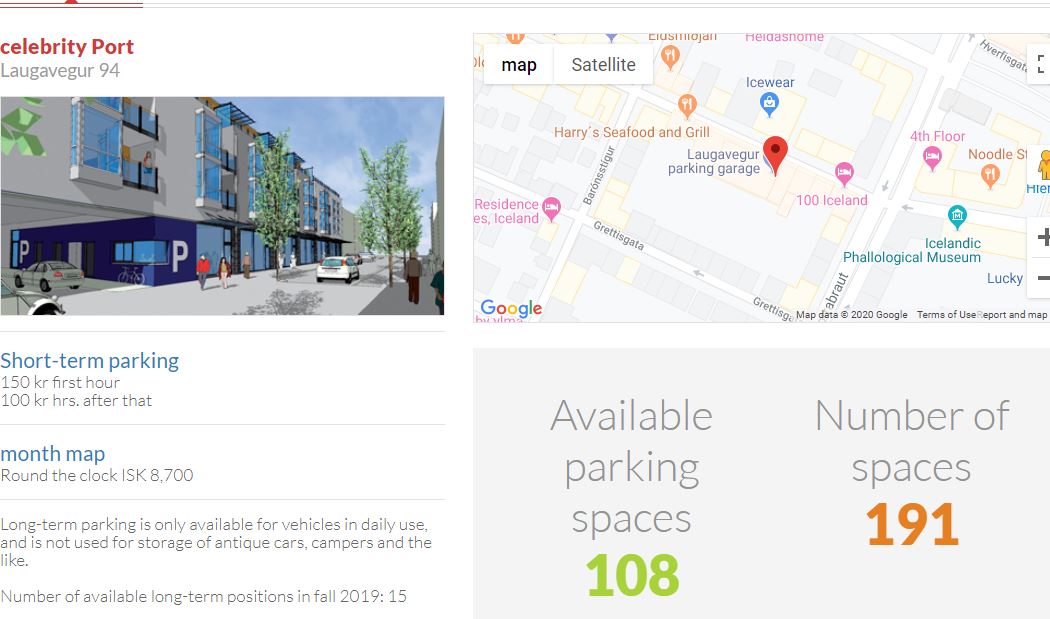 Free Parking for Eco-Friendly Cars
You might've heard about free parking for eco-friendly cars in Reykjavik and there are exemptions for the smallest cars, which includes rental cars too. If your car qualifies then you will be able to make use of free parking in all zones. You should be able to identify whether you have free parking as there should be a clock shaped sticker in your window. This is marked by the Reykjavik crest, but will only give you 90 minutes of free parking, after which point you will have to pay.
Parking During Public Holidays 
As with many countries in Europe, parking during public holidays is relaxed in Iceland. The public holidays that allow free parking are outlined below, however always be sure to check the signs before you park:
New Year's Day

Maundy Thursday

Good Friday

Easter Monday

1st day of Summer

Labour Day, May 1st

Ascension Day

Whit Monday

Independence Day, June 17th

Commerce Day, 1st Monday of August (also known as Holiday of the Merchants)

Christmas Day

Boxing Day
Can You Sleep in Your Car in Iceland?
Whilst it is not illegal to sleep in your car, it is currently illegal to camp overnight in your car, trailer, motorhome or campervan outside of designated campsite areas. Unless you have written permission from the landowner, you will find yourself confronted with a hefty fine. We would recommend using your car during the day and then seeking a hotel or rental accommodation for overnight. If you do wish to park up and sleep under the Icelandic night sky, be sure to find a campsite that will suit your needs so that you can 'car camp'.

Parking Fines in Reykjavik

If you do not follow the laws and guidelines for parking in Reykjavik, you could find yourself facing a fine, as the rules are strongly enforced. The main things you can encounter a fine for are not having any time left on your meter, parking in a disabled or handicapped space, or parking in an area where parking isn't actually permitted. If you pay within the first 3 days of being issued the ticket you will get a discount, and your fine (depending on the violation) will range between 4000ISK (30EUR) and 20,000ISK (150EUR). 
If you pay within 2 weeks of the ticket being issued, you can expect to pay between 6000ISK (40EUR) and 30,000ISK (220EUR). Waiting to pay your fine after 29 days will incur a late fee, and you can expect to have to pay somewhere between 9000ISK (65EUR) and 40,000ISK (300EUR).
If you do get issued a parking ticket, you'll want to pay it as soon as possible, and you can do so by going to the nearest bank where they will let you pay the fine. If you leave Iceland without paying the fine, your rental car company will be issued the ticket and they will track you down and you will need to reimburse them.