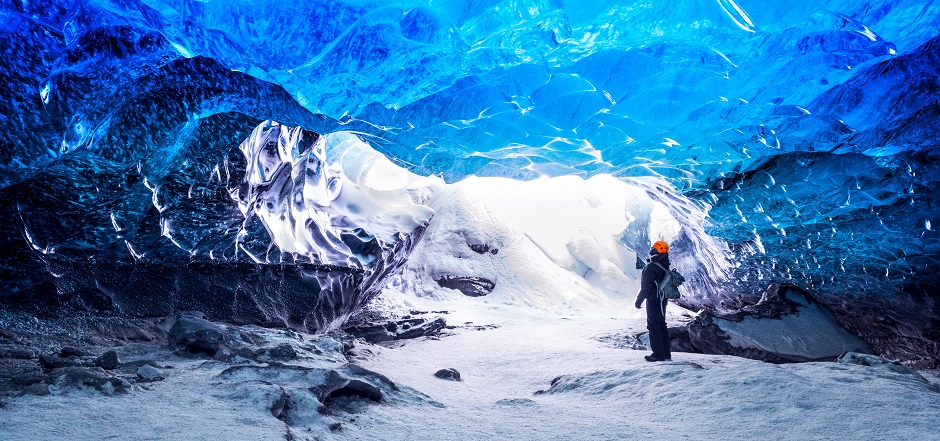 If you are planning on heading to Iceland, then you might be looking for adventurous activities to fill your itinerary. There are plenty of guides out there to give you some ideas of the best places to visit but if you're looking for something a little more adventurous, make sure you visit the Vatnajokull National Park. With plenty of activities and things to do in the region, it is definitely a must visit for thrill seekers heading to Iceland. We provide a guide for some of the top things to do and activities in Vatnajokull National Park.
Ice Cave Tours
One of the most unique experiences in the National Park is to take a tour of the ice caves that form underneath the glacier. The dramatic landscape is formed during the summer months when water runs underneath the glaciers. You can experience the deep blue of these ice formations which make for Europe's largest glacier at Vatnajokull. There are plenty of different trips and guided tours that you can head out on that include ice cave tours and hikes. Make sure that you bring warm and waterproof clothing, along with a good pair of hiking boots for all the walking.
Lagoon Boat Tour
Another great way to tour the icebergs and glaciers is to take a boat tour of the Fjallsarlon Iceberg Lagoon. The tour involves sailing on an iceberg lagoon and provides a completely different perspective on Iceland as you float past giant glaciers. Your tour guide will provide you with context to the glacier's formation and the surrounding landscape. The tour is also much shorter compared to some of the other ice cave and hiking tours around the country, with a 45-minute tour around the glaciers. This is perfect if you are looking for a shorter tour to fit in your schedule.
Svartifoss, The Black Waterfall
One of the most popular waterfalls in Iceland can be found in the Vatnajokull National Park and is often referred to as the Black Waterfall. Svartifoss is a unique waterfall as it drives through vast black lava sand plains before forming an elegant waterfall. If you don't want to spend a lot of money on excursions and guided tours, then the waterfall is well worth the visit as you can hike there yourself. The hike up to the waterfall takes around 90 minutes from the visitor centre and provides some great photo opportunities.
Skaftafell Ice Climbing
One of the most thrilling activities that you can do in the Vatnajokull National Park is ice climbing at Skaftafell. If you're after excitement and adventure, this activity is like something straight out of a video game. Scale the glacier in small groups to get a uniquely personal experience and find hard to reach places on the glacier face. You can also tailor the experience to meet your needs and the route can be altered for amateurs or made harder if you are after an extreme challenge. It is a great way to explore the region and your guide will point out things along the way. It takes around 4 hours to complete the climb and you need to be at least 14.
Our guide highlights some of the most popular activities to take part in but there are plenty of other things to do in the region too. You will also find that there are also plenty of hiking trails and things that will save your budget too!