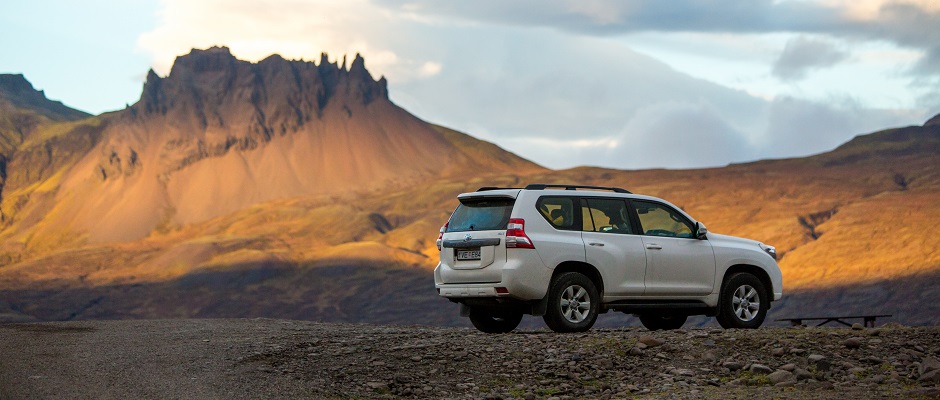 One of the most popular times for heading to Iceland is the summer, especially for those who aren't particularly fond of the cold. With much milder temperatures in the summer and long hours of sunlight, many people choose to visit Iceland during the summer. It is also common to rent a car when visiting Iceland as driving will help you to see more of the country than you would on tours or by public transport. But driving in Iceland can be different from many other places in Europe or around the world so there are some things you should know. We also have some top tips for avoiding the crowds.
Different Roads in Iceland
Iceland has an extensive road system that is largely easy to navigate, with the most popular road being the ring road that runs around the outside of the country. Most of the popular attractions and towns can be reached by following this ring road and the highway is paved. However, in order to reach a number of popular destinations in Iceland, you will more than likely have to come off the major highways and onto gravel roads, which make up a large part of the highway system in Iceland. These roads can vary massively in condition with potholes, loose gravel and washboard surfaces that can be treacherous. During winter a number of these roads can become inaccessible so they are not as well maintained as the highways and you can run into trouble. This is why a 4x4 is ideal for extensive driving.
Driving Regulations in Iceland
It is also important that you know about the driving regulations in Iceland as these can differ massively depending on where you visit. It is important that you know the driving regulations to avoid criminal charges in the country that could be easily avoided. Take a look at our guide to driving regulations in Iceland;
Drive on the right side of the road, overtake on the left much like most of Europe
Make sure your headlights are always turned on
Off-road driving is illegal throughout Iceland
Children must always be seated in the correct safety seats
Alcohol limit for driving is strict at 0.05%, so don't drink and drive
The minimum age for driving in Iceland is 17
Crossing Rivers
There are many rural roads in Iceland where you might encounter a river crossing, but you should be aware that this can be dangerous. During the summer in Iceland, warm temperatures and heavy rain cause rivers to swell and expand. Glacial rivers can also change the flow of the river which can cause you to misjudge the river. If you are not experienced in crossing rivers, then you shouldn't attempt to cross one. You should also only attempt to cross if you have a 4x4 such as a jeep, although even then it can be dangerous. One good rule is if you can't wade through the river then don't attempt to cross it.
Emergency Contact In Iceland
If you do have an accident while travelling around Iceland then it is important that you know what to do in case of an emergency. The national emergency number in Iceland is 112 and you shouldn't move the car unless it is in a dangerous position in the road. If there is plenty of room for people to get around then don't move the car. You should wait for the police to arrive and make sure you swap insurance details if you have had a collision with another car. It can also be a good idea to take pictures of the car and damage to provide documentation for the police or insurance companies, as it might not be your fault.
Avoiding Crowds In Iceland
If you are thinking about heading to Iceland in the summer to avoid the cold, you should be aware that the summer is the busiest time to visit Iceland. This means that you might experience crowds of people at some of the popular attractions and won't get the same isolated experience you might get during the winter. But there are some ways that you can avoid the crowds in Iceland with our top tips;
Rent a car to avoid crowds of people arriving at the same time with tour operators
Stay out late or get up early, as the sun rises at 3 am and sets around midnight
Drive clockwise around the ring road, as many of the tours head anti-clockwise
Pull over just before or after main stops to avoid large groups of people