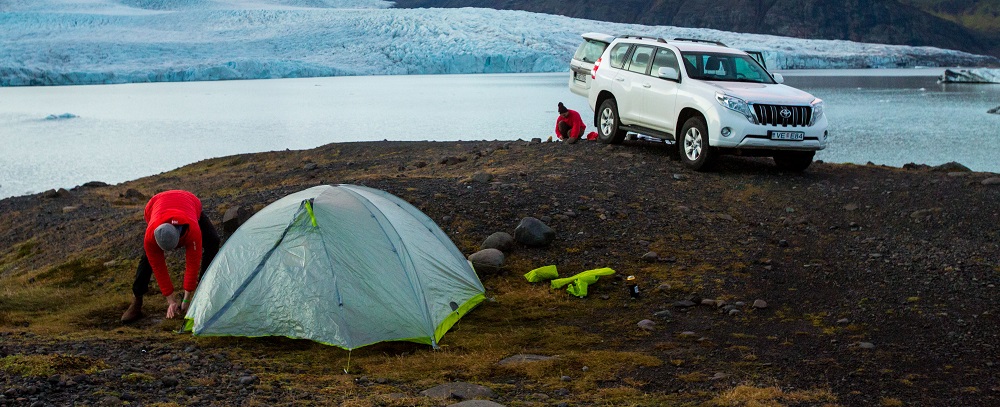 You can camp in Iceland during the winter, although the weather is unpredictable. There are plenty of designated campsites and you can camp in the wild, with a few restrictions and rules you should follow. Check out our guide to find the best camping spot for your trip.
Designated Camping Sites
There are plenty of campsites around Iceland that can help you save money on expensive hotels and fully immerse yourself in an adventure holiday. It is advised to camp at designated campsites around Iceland as there are plenty of sites that will suit your needs. You can find the nearest campsite to you with this useful guide. There is a charge for campsites, but they offer all the facilities you will need.
Grindavik Campsite
Breidavik Camping Site
Egilsstadir Campsite
Hofn Campsite
Vopnafjordur Iceland Campgrounds
Husafell Campsite
Hellissandur Camping Ground
Olafsvik Camp Site
Jokulsargljufur / Asbyrgi Campground
Þorshofn Camping Ground
These are some of the most popular camping sites around Iceland but there are in fact over 60 different camping sites to make use of. You should always be able to find a campsite to suit your needs, but you can also camp in the wild if this takes your fancy.
Camping in the Wilderness
You can camp on uncultivated land around Iceland for a single night if the landowner hasn't posted a sign or notice that states otherwise. However, you should make sure to use campsites where possible as it is likely that the land might belong to local farmers. Do not camp close to farms unless you have permission from the landowners. No more than three tents are allowed in a group and you should only camp for a single night.
Use a Hotel as a Basecamp
It might seem counterproductive to book a hotel for your camping holiday, but there are several benefits to using a hotel as your basecamp before setting off. You can book the hotel for only a few nights and use this time to plan your route and places that you are going to camp. It also means that you can stock up on food and any supplies that you might need for your trip before you set off. It also gives you a chance to explore the city and take in some of the popular sites before setting off on your journey.
Winter Weather
One of the most important factors that you should consider when thinking about winter camping in Iceland is the weather. Although you might already be aware that the weather is cold in the winter, you might not realise just how cold it can be in different regions of the country. The climate can be somewhat colder in the northern regions, which is why we put together the following data;
| | | | | | |
| --- | --- | --- | --- | --- | --- |
| Month | Nov | Dec | Jan | Feb | Mar |
| Average high °C | 3.4 | 2.2 | 1.9 | 2.8 | 3.2 |
| Average low °C | -1.3 | -2.8 | -3.0 | -2.1 | -2.0 |
| | | | | | |
| --- | --- | --- | --- | --- | --- |
| Month | Nov | Dec | Jan | Feb | Mar |
| Average high °C | 2.6 | 1.3 | 0.9 | 1.7 | 2.1 |
| Average low °C | -3.5 | -5.1 | -5.5 | -4.7 | -4.2 |
As you can see from the above tables, there is a fair bit of difference in temperature from the south to the north of the country, and this can make a big difference when camping. The temperatures can be even harsher in the highlands too, with average temperatures of around -10 °C. The lowest temperature on record is −39.7 °C so it can get extremely cold.
Camping in Iceland is a great way to see the country, but you should, of course, make sure you are prepared for the cold if you are coming in the winter. Bring plenty of thermal clothing so that you can wrap up warm and make sure that you have a warm sleeping bag. If you are looking for a car on your travels around Iceland, then Reykjavik Rent a Car have the perfect car to meet your needs. Take a look at the cars we have available today!