Iceland is known as the land of ice and fire for good reason. The island is situated atop many volcanic spots, resulting in a lot of geothermal activity. Water is an important part of life and Icelanders love to swim, no matter what time of the year it is. There are many public swimming pools and spas heated geothermically in Iceland, but there are also many hot springs to enjoy.
Iceland's landscape is dotted with therapeutic hot springs that draw in visitors and locals alike. We've put together a list of some of the top Iceland natural hot springs not to be missed on your trip to Iceland.
What is a Hot Spring?
A hot spring is a fascinating and often naturally-occurring pool of water, warmed via geothermal means. The heat from beneath the earth's crust is able to heat water at the surface where there is volcanic activity, which is a characteristic of the island nation Iceland. Iceland's glacial water is pure and clean and, when heated, creates ideal heated pools to relax in. Notable characteristics of Iceland hot springs are:
Vivid colours

Minerals surrounding the water

Sulfur smell (rotten eggs)
Some natural hot springs in Iceland are far too hot for humans to enter comfortably, with a comfortable temperature being around 40 degrees. There are also man-made hot springs around Iceland, the most famous of which is the Blue Lagoon.
The Blue Lagoon
The Blue Lagoon is without a doubt the most famous hot spring in Iceland. Located in a lava field not far from Reykjavik, the Blue Lagoon is a man-made heated pool and is supplied by water from a nearby geothermal power station. The Blue Lagoon is easily accessible and has a number of amenities and conveniences, including restaurants, two hotels, a spa, a skincare line, as well as shower and changing facilities. 

While The Blue Lagoon is busy with tourists and can be very expensive, it does make for an experience you're unlikely to forget if you visit Iceland. Find out about visiting the Blue Lagoon as a family.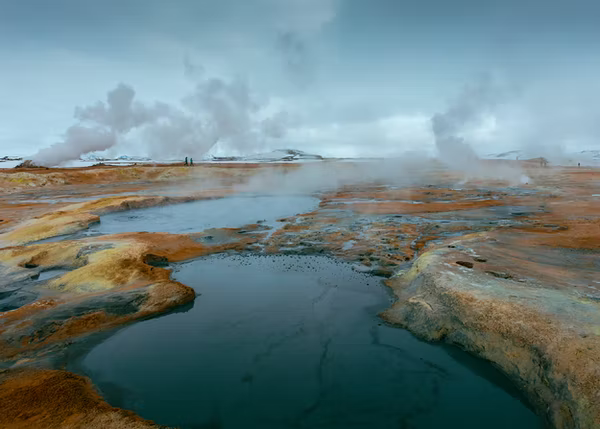 Mývatn Nature Baths
Located in the north of Iceland, the Mývatn Nature Baths are another one of the most popular bathing areas in this area and continue to grow in popularity each year. These thermal baths were opened in 2004 and though the facilities are man-made, the water is still from a natural geothermal source.
Mývatn Nature Baths have been called The Blue Lagoon of the north, as it has excellent facilities and is located in an area of natural beauty on a nature reserve. There is a café and shower/changing facilities on-site, making this a perfect Iceland hot spring if you want to make a day of your visit.
Landbrotalaug
If man-made luxury isn't what you're hoping to find in a hot spring in Iceland, there are still plenty of other natural options. This romantic hot spring is easy to access but is off-the-beaten-track, which can make it difficult to find. Landbrotalaug is a tiny spring, only fitting perhaps three people at a time.
The location is very isolated, surrounded by vast expanses and mountains in the distance. This is the perfect hot spring if you're looking for something that typically isn't crowded with tourists, like the Blue Lagoon and other man-made geothermal pools. It also makes for some fantastic photo opportunities.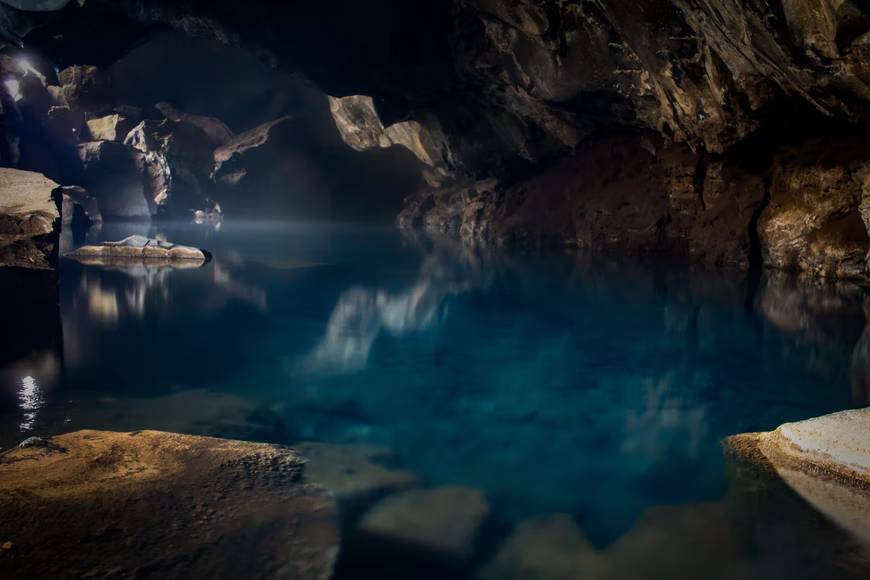 Grjótagjá
This volcanic cave contains a hidden natural hot spring and is perhaps one of the most iconic hot springs in all of Iceland. You might recognise it as it was featured in season 3 of Game of Thrones as Jon Snow and Ygritte's romantic retreat.
Until the 1970s, Grjótagjá was frequented by hot spring bathers. However, due to volcanic eruptions for nearly a decade, the temperature of the pool was far too hot to use. Grjótagjá's temperature gradually began to fall again so that visitors could soak in its soothing waters. However, in the summer of 2018, Grjótagjá was sadly closed off temporarily due to vandalism by tourists. This is an important reminder of just how vital it is that all visitors and locals alike respect the beauty of Iceland, natural or man-made.
Secret Lagoon
The Secret Lagoon is actually one of Iceland's oldest swimming pools. The surrounding geothermal area contains several hot springs that feed into the Secret Lagoon, with a walking path to safely observe gushing water. Created in 1891, it was home to many swimming lessons and it was a traditional bathing and clothes-washing location for locals. After 1947, the area fell into disuse. After the initiative began in 2005 to give the pool a second life, the Secret Lagoon reopened in 2014. 
The idea was to create an authentic and comfortable geothermal pool. The Secret Lagoon offers a true experience of a traditional hot spring without some of the added luxuries of the Blue Lagoon. For this reason, it is also less busy during tourist peak times. This pool is also in close proximity to the Golden Circle, a perfect stop on your day tour.
Laugavallalaug    
This hot spring off the beaten path boasts something extra special. Not only is this a hot spring, but it is also a hot spring with a geothermal waterfall. This hidden gem is ideal for a soothing soak and a unique experience for your time in Iceland.
To access this off-the-grid hot spring, you'll need a 4x4 vehicle. The heat of the waters at Laugavallalaug can fluctuate a great deal, meaning they are not always suitable for taking a dip so you should make sure that it's not too hot for relaxing. The hot spring is also on private land, so you'll want to gain permission from the landowner before enjoying a soak in these gloriously warm waters!
Reykjadalur Valley
Located less than an hour's drive from Reykjavik, Reykjadalur Valley is a distinctive region. The valley is popular among hikers, boasting wonderful hiking trails and beautiful surroundings. The trails will lead you through steam creeping up through cracks in the earth, hinting at the hot waters flowing below.
But what's really special about Reykjadalur is that it's home to a geothermal river. The hot river, as it's called, provides various areas where you can relax after your hike and enjoy the steamy waters.
To make sure you can access even the furthest afield Iceland hot springs, why not consider hiring a car with Reykjavik Rent a Car? Our range of rental vehicles, including 4x4s, will ensure your trip is not hindered by your transport.